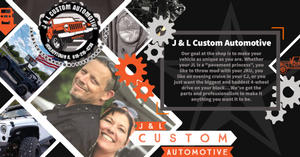 Jimmy and Liz opened J & L Custom Automotive in 2017 with the hope of opening a shop for a niche market they have a passion for: Jeeps and 4-wheel drive vehicles. Since the inception of the J & L Shop, Jimmy and Liz have expanded serval times, widened their scope of customization and repairs, and become dealers for several reputable hardware brands. Continuous growth and a loyal customer base have led them to their 6th year of success. Overall, hard work, a dedicated work ethic, a family-like work environment and excellent customer service are the foundation of what this business was/is built on. You can find reviews and numerous pictures of our projects on our Facebook page at: www.facebook.com/jandlcustomautomotive
Jimmy - The "J" - aka JFA
Nationally certified electrician. Wants to have ALL the toys. Loves working on stereo equipment - and playing the song "Dive Bar Beauty Queen" at shop-shaking decibels. Really enjoys playing in the mud, climbing on cars, and considers many natural phenomena to be a personal challenge from Mother Nature (such as mountains). Warning: If he offers to take you for a ride in Juiced, wear the harness! And if he tells you, "It'll be fiiiiiiiine," know that the level of fineness of whatever situation you or he is in, is inversely proportional to the number of i's he just used. Can generally be heard long before seen. His Jeeps can't be listed here because Liz might be reminded of some he has hidden and she has forgotten about, but trust us, he has a few.
Liz - The "L"
Hard-working, amazing, angel wife that keeps Jimmy alive and mostly in one piece, most of the time. (She might have written this part.) Rarely knows where JFA is or what he's up to (or what he's recently purchased), but generally suspects she wouldn't approve. Purchases random "necessities" for the shop (like punching bags and Magic 8 balls). Likes to blow things up and conduct random science experiments at the shop. Enjoys making Nola "purr." (Other folks call that growling.) Frequently reminds JFA that he's lucky she can't bring him back to life. Firm believer that if there's one woman in the jury room, she'll walk free and clear. Signs the paychecks. Sighs a lot. Drives the "Big Orange Billboard" JK.
Nola Mae
Also known as Jimmy's Baby Girl. Barks occasionally but generally doesn't move far from her couch, unless there are French fries involved. She really likes French fries. And butt scratches. Has her people trained well – frequently takes Gretchen for walks. Induces fits of baby talk in grown men. Glares when displeased. Regularly lays with her "Tinder profile picture" pose. Considers herself to be the prettiest princess ever and prefers folks to acknowledge her beauty. Doesn't own a Jeep due to a lack of thumbs.
Gretchen
Probably the person you will first speak with if you call the shop, or the first smile you'll see if you walk in. Extremely knowledgable regarding aftermarket parts, accessories, suspension lifts, etc. Frequently angry with JFA- keeps punching bag (purchased by aforementioned angel wife) nearby. Has been told repeatedly not to look at Jimmy in that tone of voice, but still does (to little or no avail), and is regularly accused of stealing his Ski, pen, flashlight or whatever else he has misplaced most recently. Knows to consult the Magic 8 Ball when asked if JFA will return soon. Provides Princess Nola with breakfast daily. Keeps the Orbeez guns full of ammo in case the guys need an attitude check. Saves Liz's sanity (and possibly her marriage and/or JFA's life) and keeps the shop running as smoothly as possible. Drives a Tahoe, but we don't hold that against her since we built it and therefore it is, of course, bad-ass.
Kenny
Provides comedic relief. Once wore a headrest cover as a dunce cap. Once did the same with half a giant plastic Easter Egg. (We don't know why.) Loves to trail ride and tear up his TJ - which randomly shows up at work a different color sometimes. Tells JFA things like ladders in tractor buckets might not be wise, but still participates, albeit from a distance. Perpetually hungry. Known around the shop as the "Cookie Monster" but swears he's not because he doesn't drop crumbs. (That would be wasteful.) Often curses JFA behind his back...and, to be fair, to his face. Brings Nola "chickies" (chicken strips) and baby-talks to her. Will always throw JFA under the bus when Liz is looking for him.
Larry
Refers to himself as a "fixture around here." Adopted dad/grandad to the J&L Crew, both current and past. Ornery veteran often plotting his next mischief. Taught/helped Liz lift her first truck (1983 GMC) back in 1997, and has offered infinite knowledge and experience, but now opts to go home if he gets his hands dirty. Still searching for a blonde and a million dollars. (Seriously, though, Larry has been invaluable to this shop, and we are forever grateful for him.) Has owned and driven more models of Jeeps than most of us can even think of.
AND THAT'S THE CREW!
We hope those introductions brought you a few laughs! In all seriousness though, we here at J&L Custom Automotive are passionate about what we do. While we all enjoy some fun (we ARE Jeepers after all), we strive to ensure our customers are thrilled with their builds. We'll work hard to earn your business, meet your needs, and help you see your dream come to fruition. We won't push but are always happy to make suggestions if asked. We do our best to keep our prices low, and our quality high. We truly embrace our motto - "Work Hard. Play Harder" And we look forward to meeting you soon!